Do you know as per a recent report by Deloitte, the Indian semiconductor market is expected to skyrocket to a staggering $55 billion by 2026? 
You might be thinking what's driving this phenomenal growth?
Well, the reason is the increased demand for smartphones, wearables, automotive components, computing and data storage fueled by Covid-19 which popularized an online work culture across the globe.
It's pretty clear that semiconductors have become the bedrock of digitalization in the modern world, powering everything from our phones to our cars. With the rise of technology, the demand for semiconductors has increased consistently, making them an essential component.
Let's get more insight into the top 11 semiconductor companies in India driving the chips manufacturing industry forward, their significance in India's future and their impact on the global supply chain. 
Hop on board for a thrilling and insightful ride through the Semiconductor companies in India.
Top 11 Semiconductor Companies in India
1.  HCL Technologies Ltd
Products– Application development, IT consulting, Systems Integration, Cloud computing, Infrastructure Management, Security, Analytics and software testing.
Market Valuation-  ₹ 2,85,570 Cr
Founded- 1976
HCL Technologies is a leading multinational Information Technology (IT) services company based in India. The company has a global presence and offers its products and services across multiple locations, including the United Kingdom, the United States, France, Germany, and others.
In 2019, it acquired Sankalp Semiconductor, one of the prominent semiconductor companies in India.
Although the company's stock had a negative 1-year return of -21.99%, its 5-year CAGR is a healthy 127.84%.

2.  Vedanta Ltd
Products-  Integrated Mining Solutions, Power Generation, Oil & Gas Exploration and Production, Metals Manufacturing & Alloys
Market Valuation- ₹ 1,06,813 Cr
Founded- 1980
Vedanta Ltd is India's largest diversified natural resources company, with interests in zinc, lead, silver, oil & gas, iron ore, copper, aluminium, and power. 
Last year,  Vedanta and Taiwanese chipmaker Foxconn signed an MoU with the Gujarat government to set up India's first semiconductor and display manufacturing plant at an investment of ₹ 1,54,000 crore. 
Vedanta Ltd's financial performance has been consistent, with a negative 1-year return of -4.36% and a negative 5-year CAGR of -6.30%.
3. Tata Elxsi Ltd
Products- IoT (Internet of Things), Cloud, Mobility, Virtual Reality, and Artificial Intelligence.
Market Valuation- ₹ 39,599 Cr
Founded- 1989
Tata Elxsi is a global design and technology services company providing solutions for product engineering across industries. It has a presence in 15 countries with operations in over 35 locations. 
The company delivers innovative and reliable services for the automotive, broadcast, communications, healthcare, and transportation industries. 
Their stock performance has a 1-year return of 1.68% and a 5-year CAGR of 498.72%.
3. Dixon Technologies (India) Ltd
Products– Home appliances, Mobile phones, Security surveillance systems, and Consumer electronics
Market Valuation- ₹ 16,550.88 Cr.
Founded- 1993
Dixon Technologies (India) Limited is the go-to name in India's electronic manufacturing services space. It has 18 state-of-the-art manufacturing facilities spanning Uttar Pradesh, Uttarakhand and Andhra Pradesh. 
Their consolidated revenue as of FY 2022 is a healthy ₹1,06,971 Million. Whilst the 1-year return is at -29.64%, the 5-year compounded annual growth rate stands at a remarkable 381.86%.
4. Moschip Technologies Ltd
Products- Embedded solutions, Semiconductor products, and IoT solutions
Market Valuation-  ₹ 1,001.81 Crore
Founded- 1999
MosChip Technologies, the publicly-traded semiconductor and system design services provider headquartered in Hyderabad, India, is a veteran in the semiconductor industry with over two decades of domain experience. 
Having invested in leading-edge technologies, the company has developed a range of products and SoCs for computing, networking and consumer-grade applications. 
The stock's last 12-month return is -5.17% and the 5-year CAGR is an impressive 60.16%, indicating the company's stability on the markets.
5. ASM Technologies Ltd
Products- Internet of Things, Engineering services, Automation solutions, Augmented reality
Market Valuation- ₹ 405 Cr.
Founded- 1992
ASM Technologies Limited, a public Indian company with a notable global footprint encompassing the USA, Singapore, UK, Canada, Mexico and Japan, has decades of experience providing stellar solutions to some of the most prestigious Semiconductor Equipment Manufacturing Companies.
 Over the course of the past year alone, the stock has seen a -37.94% return. However, when looking at the 5-year CAGR, an impressive 522.45% return is seen.
6. SPEL Semiconductor Ltd
Products- Semiconductor products, Hard disk drive components, Flat panel displays, Optoelectronics, and Custom ASICs
Market Valuation-  ₹ 232 Cr
Founded- 1984
SPEL is India's only Semiconductor IC Assembly & Test facility and a trusted partner for leading semiconductor companies. It pioneered the Indian OSAT market and continues to grow steadily. 
The company has delivered a consistent financial performance with a 1-year return of 25.57% and a 5-year CAGR of 179.01%. Its innovative and reliable services have made it a preferred choice for companies in the semiconductor industry.
7. Ruttonsha International Rectifier Ltd
Products- Semiconductors, Semiconductor modules
Market Valuation-  ₹ 227 Cr
Founded- 1969
The company, formerly known as RIR International Rectifier Ltd., was a joint venture between Ruttonsha and International Rectifier of Los Angeles, USA, for semiconductor manufacturing.
The company was awarded 'Export House' status by the Government of India in 2011, and it continues to achieve strong financial performance with a 1-year return of 24.68% and a 5-year CAGR of 517.47%.
8. MIC Electronics Ltd
Products-  LED Video Displays, High-end Electronic and Telecommunication equipment and Development of Telecom software
Market Valuation-  ₹ 259 Cr
Founded- 1988
The Hyderabad-based MIC Electronics Ltd started as a manufacturer of Electronic Display Systems, has now diversified into 'Design and Development of Telecom Products' for wireline and wireless communication. 
Their stock's performance has seen a 1-year return of -61.71% and a 5-year CAGR of 9.76%.
9. Surana Telecom and Power Ltd
Products- Petroleum jelly, High tension power cables, Telecom products, Optic fibre, and Solar power
Market Valuation-  ₹ 128Cr.
Founded- 1989
Surana Telecom and Power Limited, formerly known as Surana Petro Products Pvt. Ltd, began its journey as a manufacturer of Jelly-filled Telephone Cables. 
In 2008, it expanded into the Solar Photovoltaics sector by establishing an SPV 100% EOU with a capacity of 12MW and investing in a JV with Bhagyanagar India Ltd. 
The company is listed on the NSE and BSE. The stock has a 1-year return of -25.97% and a 5-year CAGR of 78.13%.
10. NXP Semiconductors
Products– Semiconductors for Automotive, Mobile, and Communication Industries
Market Valuation-  ₹ 3,78,109 Cr
Founded- 2006
NXP Semiconductors is a global company headquartered in Eindhoven, Netherlands, with a presence in many locations worldwide. 
Originally spun off from Philips in 2006, NXP has been operating in India for over 50 years and has one of its largest design centres there. The company made waves in 2009 with the launch of its first industry-standard NFC IC, the PN544. 
In 2010, NXP was listed on the NASDAQ Stock Exchange in New York City. While in 2021, the company joined the S&P 500 Index.
What are the Semiconductor Chips and what are semiconductors used for?
A semiconductor chip is a tiny electronic device that is made from materials that have special properties to control the flow of electricity. It's called a "semiconductor" because it's neither a good conductor (like metal) nor a good insulator (like plastic), but it has properties of both.
The chip is made up of layers of materials, such as silicon, that are precisely arranged and patterned to create electrical components like transistors, diodes, and capacitors. These components work together to perform specific functions, such as processing information or storing data.
Semiconductors are used to make transistors, diodes, solar cells, LEDs, and integrated circuits, which are used in everything from radios and televisions to computers and smartphones.
What caused the global semiconductor chip shortage?
Semiconductor Chips are a crucial component in our daily lives, powering everything from our smartphones and laptops to cars and spacecraft. 
However, the last two years have seen the semiconductor market hit by supply chain issues and a global shortage that experts predict will continue until early 2024. 
A series of events that disrupted the supply chain worldwide include: 
In early 2019, a fire in Ukraine impacted the production of packaging materials for semiconductors.

In March 2021, a fire at Renesas' fabrication facility caused a three-month halt in microcontroller production, while in the meantime, a cargo ship blocked the Suez Canal for over a week.

In October 2021, staffing shortages led to a bottleneck of 77 ships outside the Los Angeles and Long Beach docks.

In February 2021, an ice storm in Texas resulted in a power outage in Samsung, NXP, and Infineon fabs resulted a halt in production.
The impact has been significant, with over $500 billion in revenue lost. The pandemic only made things worse, forcing semiconductor manufacturers to stop production and causing a worldwide shortage. Despite this, the global semiconductor industry grew by 6.5% to reach a staggering $440 billion in 2020.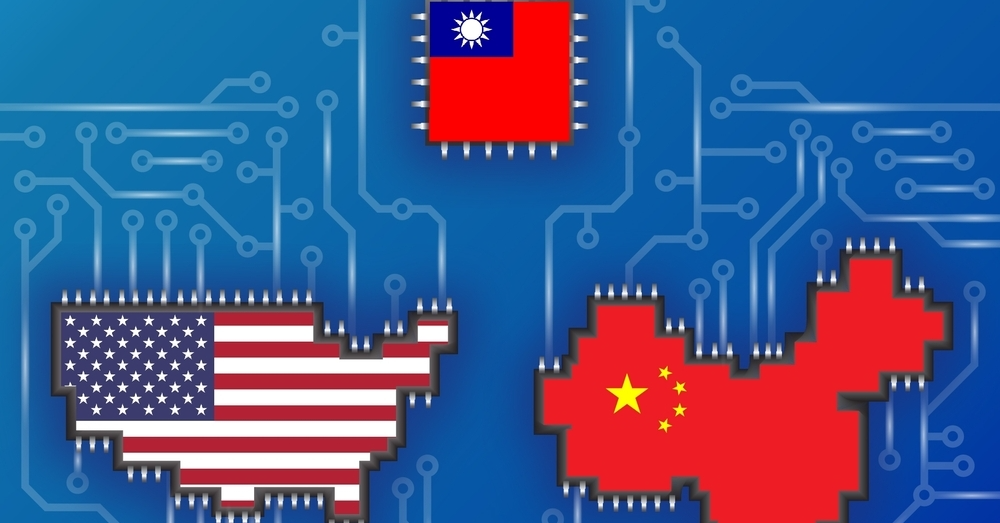 Tussel in the world for Semiconductor
The United States, South Korea, Taiwan, and China are the major players in the semiconductor industry, with these four countries accounting for around 90% of global semiconductor production.
The enormous global demand for semiconductors can be easily affected by the monopoly of a few countries in the market, even the slightest disruption from them can cause a major imbalance in the supply chain.
The major reasons behind tension in geopolitics around semiconductors are :
Russian attack on Ukraine
Where does India Stand in the Semiconductor Market?
Currently, India imports almost all of its semiconductors needs but India has a skilled talent pool of design engineers, contributing up to 20% of the world's design engineers. Many of the world's top semiconductor companies have R&D and design centres in India.
India's own consumption of semiconductors is expected to exceed $80 billion by 2026 and $110 billion by 2030.
Several semiconductor manufacturing projects have been announced, including India's first semiconductor and display manufacturing plant in Gujarat, an investment of ₹1,54,000 crore by Vedanta and Taiwanese chipmaker Foxconn. 
Other projects include a $3 billion plant in Karnataka by the International consortium ISMC (a joint venture between Abu Dhabi-based Next Orbit Ventures and Israel's Tower Semiconductor) and a $3.5 billion plant in Tamil Nadu by Singapore's IGSS Ventures.
Production-Linked Incentive (PLI) Scheme
To boost the semiconductor manufacturing industry, the government passed a ₹76,000 crore ($10 billion) production-linked incentive (PLI) scheme in 2021, which will strengthen India's manufacturing base in making semiconductor chips.
Design-Linked Incentive (DLI) scheme
Under the DLI scheme, The Indian Government has allotted an outlay of ₹ 1,000+ crores rupees to foster semiconductor design startups and an additional ₹ 100+ crores for designing semiconductor IP cores, chips, and products.
These initiatives aim to increase domestic semiconductor production and reduce India's reliance on imports.
What are the Challenges for India?
Semiconductor companies in India are facing many challenges. Some of the key challenges include:
– Limited availability of qualified personnel
– Limited design and manufacturing capabilities
– Complexity of the regulatory environment
Manufacturing chips is incredibly complex, requiring vast amounts of capital investment, high levels of risk, long periods of gestation and payback, and a continual need to keep up with rapid technological advancements. But if moved ahead with planned strategies, the country is fully capable of becoming a worthy semiconductor manufacturing hub.
What can be the Way Forward?
Taking into consideration India's vast abilities and experience, providing financial support to other parts of the chip-making cycle such as design centres, testing centres and packaging may be the best way to progress the new mission in the present.
In order to take a leading role in creating a secure, plurilateral semiconductor environment that excludes hostile parties, India must put favourable trade policies in place.
There are three components of the chip- Hardware(raw material), Design and Fabrication. Even if India taps into Designing components of semiconductors, it will create great value for the Indian semiconductor industry.
You will also like our other blog: Top 11 Pharma Companies in India
FAQs
Who is the largest chip manufacturer?
Taiwan Semiconductor Manufacturing Company (TSMC), is the world's largest subcontractor of semiconductor chips.
How many companies make semiconductors in India?
There are 966 semiconductor businesses based in India, as well as 53,000 such businesses globally.
Which company produce semiconductor in India?
The top 11 semiconductor companies in India are:
HCL Technologies Ltd

Vedanta Ltd

Tata Elxsi Ltd

Dixon Technologies (India) Ltd

Moschip Technologies Ltd

ASM Technologies Ltd

SPEL Semiconductor Ltd

Ruttonsha International Rectifier Ltd

MIC Electronics Ltd

Surana Telecom and Power Ltd

NXP Semiconductors