Revenue Model of WhatsApp-What is WhatsApp's business model? has always been on people's mind as there is No Ads and No Subscription Fee.

WhatsApp-The History:
WhatsApp Messenger, or simply WhatsApp, is a Facebook, Inc.-owned freeware, cross-platform centralized messaging and voice-over-IP (VoIP) service. Users can send text and voice messages, make voice and video calls, and exchange photos, records, user locations, and other content.
We developed WhatsApp because we wanted to build a product that people would love to use. Something that they'd wake up to and be excited to look at.
— Jan Koum – Co-founder, WhatsApp
After quitting their jobs at Yahoo!, Brian Acton and Jan Koum developed WhatsApp in 2009.
When they quit their jobs to fly around the world, the entrepreneurship story began. But their resources rapidly drained, and they were forced to apply for a position on Facebook, which also did not go as expected. They were saddened, but their disappointment inspired them to embark on a new adventure in their lives – WhatsApp.
Strategy for Initial Sales Generation:
WhatsApp received a $250k seed round from five ex-Yahoo! mates who were given co-founder status.
Sequoia Capital led the second and third rounds of investment, spending a total of $60 million ($8 million in 2011 and $52 million in 2013) on WhatsApp Inc. This was the only means of revenue for WhatsApp's 50 workers. The cost of running the program was minimal; the only expense was submitting a verification code to the customers.
This is why WhatsApp waived the $1 monthly subscription fee.
The founders planned to put the name as a synonym for instant messaging service. This allowed them to take advantage of the network impact.
This technique of first building a network and then making profits proved fruitful. After two years of being courted by Facebook CEO Mark Zuckerberg, WhatsApp was purchased by Facebook in February 2014 for $19 billion, and all staff, including Koum, were transferred to Facebook's payroll. Koum is now a member of Facebook's board of directors.
Revenue Model of WhatsApp:
WhatsApp reportedly raises money from two sources:
Subscription to WhatsApp Enterprise API
Ads that connect to WhatsApp
There are new possible revenue opportunities in the works, and WhatsApp has been looking ahead to find monetization strategies for its 2+ billion monthly active users.
Today, we'll discuss the two outlets of the revenue model of WhatsApp.
Subscription to WhatsApp Enterprise API:
WhatsApp for Business API, launched in August 2018, was the company's first revenue-generating product. Since the launch of their WhatsApp Business app, they've been tinkering with it to make it more business-friendly. Many banks will provide banking on WhatsApp by 2020, and many larger brands will use the chat app to communicate with customers and respond to help requests.
Businesses may also use the WhatsApp Business API to deliver customized messages of non-promotional material including shipping confirmations, appointment updates, and event tickets. The WhatsApp API is only available to very few companies. To request, please fill out the form contained here for API access.
They have the benefit of being a verified company on the platform.
Setting up valuable ties to their social media accounts or profile sites will help the company gain more clout. They can also use Whatsapp to connect their own phone numbers and merge them with their API. Small companies will benefit from the Whatsapp Business Application, which is now available for free download.
What is the revenue model of WhatsApp for their Business API?
Customers who use WhatsApp's company API are paid per message received. When a new company registers for the API, they would use a three-tiered approach to bulk messaging.
There are messaging tier limits, and each company begins at Tier 1, which is the lowest tier.
1K unique messages every 24 hours in the first tier.
Second Tier: Every 24-hours, 10K unique messages are sent.
Tier 3: Every 24-hours, 100K unique messages are sent.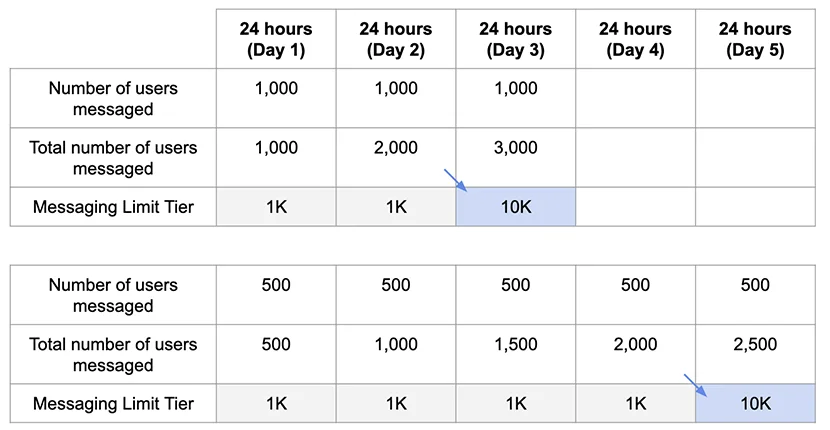 Ads that connect to WhatsApp: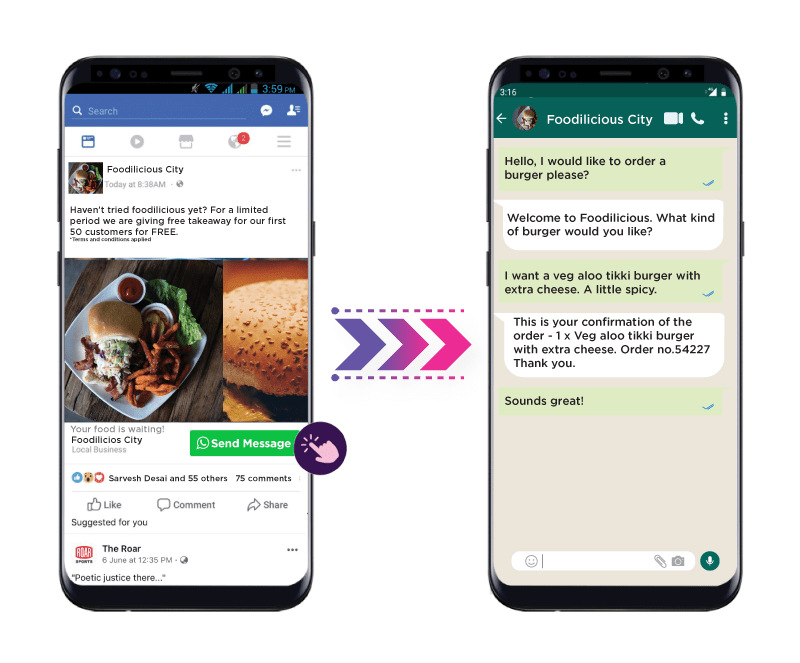 Imagine seeing an ad for something cool when scrolling through your Facebook feed! Isn't it much more convenient to speak with anyone from the organization directly?
Click-To-WhatsApp ads do just that. Take a look at the illustration above. The "Send Message" button allows users to guide their questions to the company via WhatsApp.
The advantage for businesses is straightforward: most people who use Facebook already have WhatsApp enabled on their devices. It lowers the contact barrier, allowing companies to obtain direct phone numbers from interested customers!
Strategy for Increasing Future Sales:
Take a note of Snap Chat's revenue model.

In order to compete in the marketing industry, WhatsApp decided to follow some of Snapchat's features (such as vanishing messages). It was also part of their scheme to steal a large amount of Snapchat's user base.
Since then, Whatsapp has been running on a business model similar to Snapchat's. WhatsApp intends to develop features that support the brand using videos, messages, and images.

Advertisements that are shown – According to the Economic Times, WhatsApp intends to show targeted ads in the app's "Status" portion.
Conclusion:
Whatsapp's new business strategies have proved to be long-term profitable for the platform. To make a significant profit, it adapted several templates and produced some of its own.
Is Facebook's takeover ensuring its long-term viability?
For many of its users, the app has proved to be simple and common, and it will almost certainly undergo certain evolutionary as well as adaptable changes in order to maintain its rapid development. So now you have well understood the revenue model of Whatsapp.
Read this blog to learn how to expand your small business with the help of SEO.